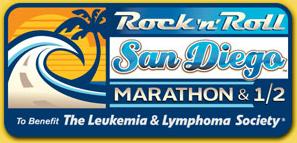 My little Sis is starting her first marathon in 30 minutes. I am so excited for her!!! I am kind of vicariously living through her since I have run a few of her training runs and woke up with her this morning at 4:00am! That also means that right now, I am a die hard fan and I am parked near the end of the race, laying in the back of the car posting this right now!! So proud of my Sis! She is going to 'Rock' and 'Roll' this 26.2 miles! Check back for more updates once she completes it!!! And she officially finished her first marathon! She definitely does not recommend this task however it has now been a few days and I am sure she will do another one so she can beat her time. Maybe next time, I will do it with her.
She did so awesome. She finished in 4 hours and 45 minutes. It was a warm Sunday and she starting running around 7:00am and therefore finished around 12 noon. Now to add the rest of the weekend. When we got in on Friday night, we just lounged around at my friends house who so kindly opened her home. Saturday morning we headed downtown to pick up Katie's marathon number and then we went to lunch at the Counter with my Mom's family, our aunts and uncle and grandma and cousin. It was really fun!
After lunch, Katie and I went out on Whitney and Anthony's boat and had such a fun, relaxing day. Jill was not with us because she was having a super fun day at Sea World.
After the pretty day on the water, we headed back to their house and had a lovely dinner and played mexican train until about 10 and then we went straight to bed.
We then of course got up at 4:00am which I mentioned at the beginning. It was such a fun weekend and I am looking forward to taking Tadd down to San Diego and hanging out with Whitney and Anthony again really soon!!!